The Gateway Garden Re-Design
See photos of the new Gateway Garden at our Gateway Photo Gallery.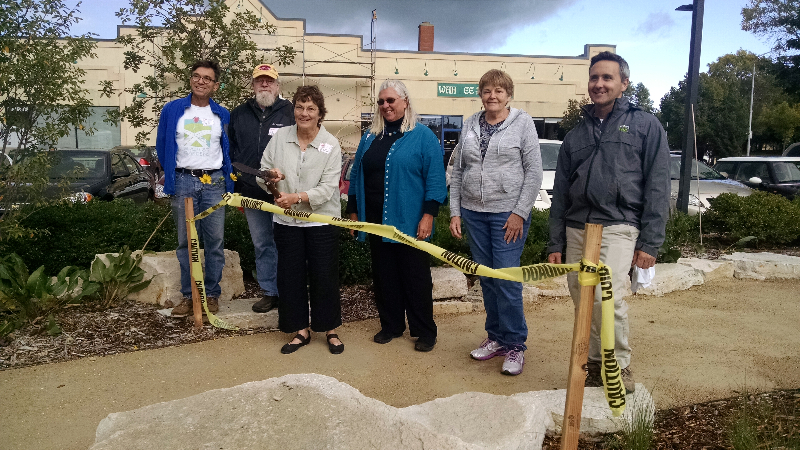 The major makeover of the Gateway Garden on the northeast side of the intersection of Blair Street, Williamson Street, and John Nolen Drive, in front of the Gateway Mall, was completed in 2016. The design created by Avant Gardening & Landscaping dramatically transforms the area into a welcoming destination for pedestrians and bicyclists.
In 2015, we re-graded the area, eliminating the large, curved flower bed and creating a larger space toward E. Wilson St. for a seating area. Retaining walls, raised planting areas, a patio, seating areas, and gravel paths were created. Stone benches were also installed. And we planted oak trees, a coffee tree, serviceberries, sumac, asters, goldenrod, and over 100 little bluestem grasses.
In 2016, we planted Cool Splash Honeysuckles, Junipers, Arctic Fire Dogwoods, Prairie Dock, and Liatris. The gravel garden was planted with Autumn Moor Grass, Alliums, Lead plants, Coneflowers, Penstemon, Culver's Root and Asters. Thank you to Ebert's Greenhouse, Flower Factory Nursery, JFNew/Cardno, Kopke's Greenhouse, and McKay Nursery for donating these wonderful plants.
Thanks to the Wisconsin Nursery & Landscape Association and Madison Block and Stone, the gravel paths have been completed with the addition of a polymer stabilizer and more gravel. In addition, we have installed a wooden bench and metal bench, and we have asked the City of Madison to install a bubbler.
Opportunities to memorialize a loved one with a memorial bench or tree at the Gateway Garden are being offered. The benches have been designed by local artists Michael Burns and Kevin Earley. A scale model is shown below. Memorial benches are being offered at $8,000 and memorial trees at $1,000. See our Memorial Benches page for more info.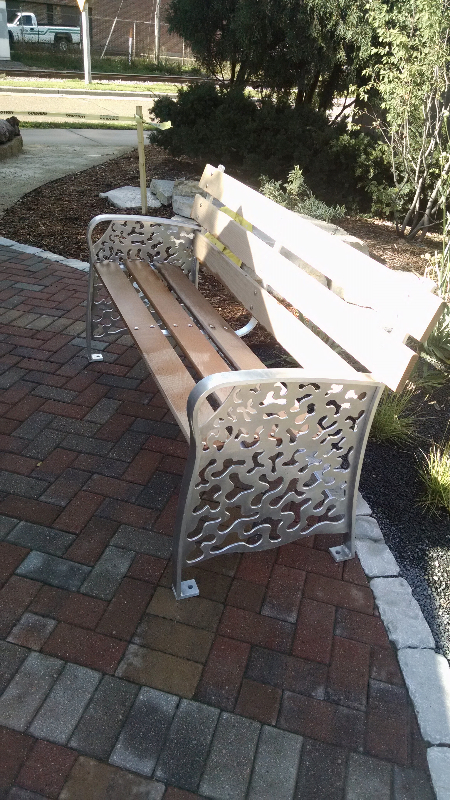 Bench for Gateway Garden
Many area businesses generously donated in-kind services. Avant Gardening & Landscaping, Inc. has been especially generous with its time and design expertise. To celebrate their 30th anniversary, they offered in-kind landscaping services. Avant has been providing innovative landscape design, construction and maintenance services in Dane County since 1985.
We also received grants from the MGE Foundation and The City of Madison Neighborhood Grant program. Our donors include:
Read the article madison.com wrote about our plans.
If you would like to contribute, please see our Donate to the Gardens page. Financial contributions (tax-deductible) are appreciated. A contribution of $25 buys prairie grasses; $50 buys several perennial plants; $100 buys a couple of healthy shrubs.
Check out the images below to see the plan that led to the transformation. You can click on an image for a larger view.
---
Check us out on Facebook.