Donate to the Gardens
Blair Street Gardens relies on in-kind and financial contributions from individuals and businesses. If you would like to donate your time, please contact 608-256-1726 or email info@blairstreetgardens.org. If you would like to donate financially, please send your check made out to Blair Street Gardens Committee, Inc. to P.O. Box 1333, Madison, WI 53701-1333. Blair Street Gardens Committee, Inc. is a 501(c)3 organization, and your donation is tax deductible as permitted by law. We accept donations large and small.
Your donations help us pay for water and purchase plants, tools, and landscaping services.
Opportunities to memorialize a loved one with a memorial bench or tree at the Gateway Garden are being offered. The benches have been designed by local artists Michael Burns and Kevin Earley. A scale model is shown below. Memorial benches are being offered at $8,000 and memorial trees at $1,000. See our Memorial Benches page for more info.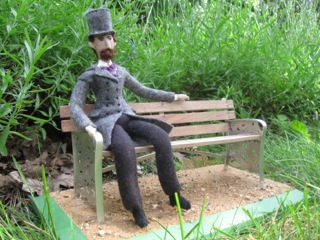 Scale model of benches for Gateway Garden
Thank you!!!
---
Check us out on Facebook.