BLAIR STREET GARDENS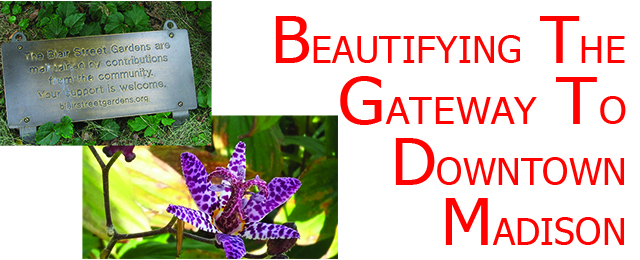 Annual Meeting - May 18 at 6:30 pm
Join us for Blair Street Gardens' Annual Meeting on Tuesday, May 18th from 6:30-8:30 pm outside at The Gateway Garden on the 600 block of Williamson Street. The garden is across from Machinery Row Bikes, at the corner of John Nolen Drive and Williamson, E. Wilson, and S. Blair Streets. The agenda is to elect board members and officers, plan for this gardening season, and adopt the budget. We welcome input from everyone. If the weather is inclement, check our website or Facebook page for an update about an alternative date or change of location.
New Bench Installed at The Gateway Garden
We are pleased to announce that BSG has installed a second bench at The Gateway Garden. The bench honors Jeff Kuesel, one of BSG's co-founders. Due to his tireless dedication over nearly 30 years, the BSG continues today. Jeff handled the administration and fundraising, and he spent endless hours planting spring bulbs and summer annuals and tending to the perennials and shrubs. Many of you will remember seeing him working in the Gardens in all kinds of weather during evenings and weekends. Thank you to all who contributed! The bench, designed by local artists Michael Burns and Kevin Earley, is made of white oak and aluminum.
Gateway Garden Tree Pruning
The Tree Health Management company pruning one of the White Ash trees in March at the Gateway Garden of Blair Street Gardens across from Machinery Row at Blair and Williamson Streets.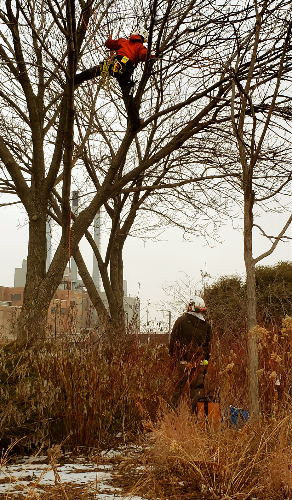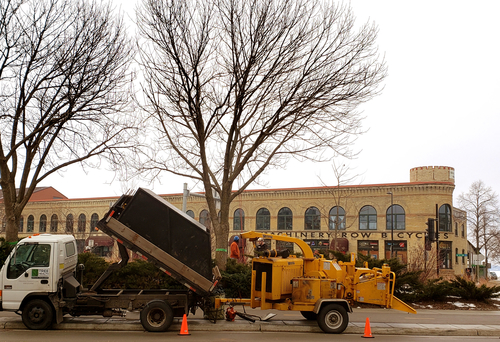 Annual Newsletter
Check out our current newsletter.
Interested in Serving on the Board?
If you are interested in helping to guide Blair Street Gardens of the next season, please consider joining the Board. Responsibilities include 1-3 meetings a year plus being available for input by e-mail. Or, if you prefer, you can participate on an informal basis. Contact info@blairstreetgardens.org if you are interested.
Consider memorializing a loved one by purchasing a tree or bench. Click here for details.
If you would like to contribute, please go to our Donate to the Gardens page.
If you have any questions about the Gardens, please contact us at info@blairstreetgardens.org.
---
Check us out on Facebook.